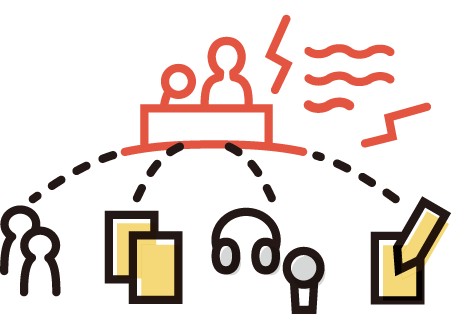 We offer prompt and flexible conference support,
every step of the way.
From start to finish, multilingual conferences present the organizers with many different challenges. Urban Connections offers total support throughout the process, including the creation and preparation of presentation materials beforehand, multilingual support during, and creation of summaries and conference reports afterwards. We are able to respond rapidly and flexibly to our clients' needs, with, for instance, interpreting, transcription, and summary creation services in a variety of languages.
On-site summaries
Keeping a record of conference proceedings is essential for revisiting and sharing what points were discussed and what decisions were made. We have a team of English and Japanese summarizers who are thorough in their research and meticulous in their preparation to ensure that they are ready to produce excellent summaries of conferences in any field. Working on-site, our summarizers are able to produce and deliver a well-written summary of a full day of discussions just an hour or two after the meeting is over.
Audio summaries
In cases where our summarizers are unable to attend a conference in person, for example if it is being held overseas, we can still produce an excellent summary from an audio recording of the conference proceedings. Working from audio also means that, if needed, we can create a more detailed record than a standard summary. We have a long track record of creating great summaries in Japanese and English of conferences in a variety of fields, including, but not limited to, medicine, politics, finance, etc.
Transcription
Urban Connections also offers superb transcription services for recording conference proceedings in full. The editors on our transcription team produce precise and easy-to-read transcripts, and are extremely thorough in their research to ensure that they accurately transcribe technical terminology and subject matter. We can transcribe discussions held in English, Japanese, Chinese, Korean, and a variety of European languages.
On-site editing
In addition to on-site summaries, our editors are also able to provide a variety of other on-site services. For example, our editors can work in your office to edit documents that contain highly confidential information or that urgently need to be finalized. Urban Connections also offers a service called speaker identification, in which an editor will attend a conference that you wish to subsequently have transcribed, and keep a careful record of who spoke when, so that we can produce a transcript that precisely captures which comments were made by whom. We can also dispatch a team of editors to a conference to type up the discussions in real-time, so that this information can be displayed on a screen for the audience members or as subtitles on a livestream broadcast. Whatever your needs may be, just let us know. We have a strong team of flexible editors who are eager to assist you with your communications needs.
Don't hesitate to contact us